PARTNERSHIPS
As an Active School, the support of all our school staff, pupils and the local community plays an important role in keeping St. Michaels active. We are so lucky to have so many great volunteers from clubs and other organizations visit our school regularly.
European Schools Sports Day 2019
We participated in European Schools Sports Day on 27th September 2019.
We had a great time keeping active as a whole school!
Circuit Time!
GAA Coaching 2019
We had six weeks of Gaelic coaching with Ann Mc Kenna.
Cumann na mBunscol
St. Michael's took part in the annual Cumann na mBunscol competition.The boys from fourth,fifth and sixth played with pride.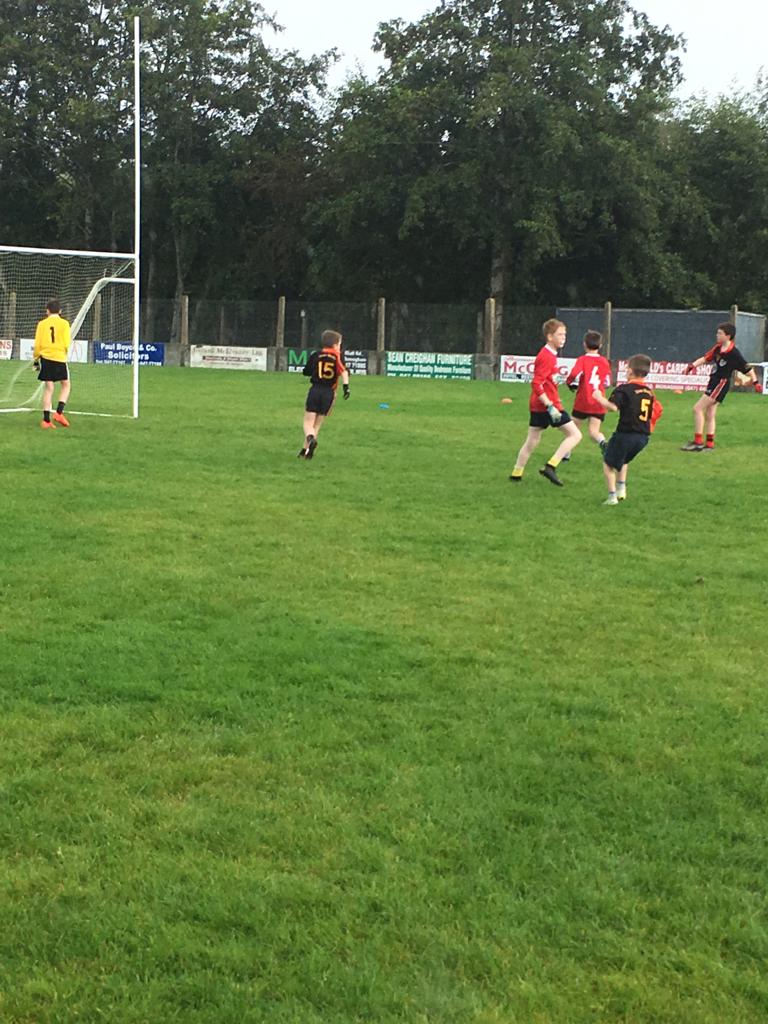 Maths Week 2019
Maths Week 2019 took place from 12th to 18th October. In St. Michael's , we had a Maths trail. All children were divided into groups. The maths trail took place around our school environment. If you would like to know more about Maths week you can visit www.mathsweek.
Soccer Coaching by the FAI
We really enjoyed eight weeks soccer coaching with Euan! We learnt about dribbling skills, passing accuracy, balancing and co-ordination.
Futsal
Children from third and fourth class participated in the Futsal programme.
The children recieved certificates for taking part in the Futsal programme.
Maith sibh a pháistí!
Handball Coaching for the Senior Room
Thanks very much to Enda Timoney for the wonderful coaching!
Dance with Elaine
During the months of November and December, we had great fun dancing with Elaine!
Shake it out!
Look at our Junior & Senior Infants in Action!
Junior Infants and Elaine.mp4 (1278677)
Our Final Dance!
Primary Schools Cross Country Event
During the months of February and March, children from fourth,fifth and sixth class have been training very hard under the guidance of Mrs. Doherty. We entered one small school boys' team and one small girls team. Congratulations to you all!
Volleyball coaching in associated
with Monaghan Sports Partnership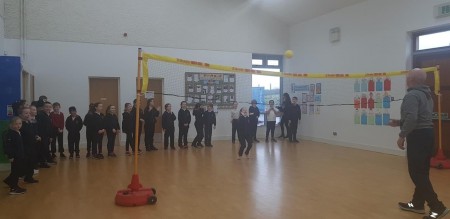 Scoot on Wednesday
On Wednesday 11th March, we participated in National Scoot on Wednesday (SOW) day as part of our journey towards achieving the Green Schools Travel flag. Children were invited to bring their scooter to school and scoot around the yard before school, at little break and lunchtime. All the children really enjoyed getting active using their scooters
Seachtain na Gaeilge
Lá gnóthach inniu! Thainig Nollaig le Muineachán le Gaeilge do Scoil Mhichil. Rinne sé a lán cluichí difriúla le gach rang. Thaitin sé go mór leis na páistí.
Have a look at our dance moves!
2020/2021
Sean McDermotts GFC
Our local GAA club Sean McDermotts had a fantastic winning streak in September. A special well done to all our past and present pupils pupils.
European School Sports Day 2020
We participated in National European School Sports Day. The children had a fantastic and active day. Check out our social media for more photos!
What Club are you in?
Our Senior pupils conducted a 'What Club Are You In?' survey to find out what type of activities children in St. Michael's do outside of school!
What Club are you in 2.docx (15523)
The Daily Mile
We started the Daily Mile at the middle of September and finished before the Halloween holidays. Everyone really enjoyed doing their "laps" around the school walking or running in any type of weather. Below is a few photos of the children in action. Check our social media pages for more!
On Thursday 10th December, we had a special flag ceremony to celebrate the children's fantastic running in Term one. A big thank you to our past pupill and All Star Player Lora Mc Guirk for raising our flag.
Have a look at our Daily Mile poem written by some very talented children in 5th class
Our Daily Mile Poem.docx (12070)
Soccer Coaching
All class bubbles had six week block of soccer training with Euan. The children work on their ball handling skills,dribbling and got lots of opportunities to do shooting practice too! A big thank you to Euan for his enthusiasm and hard work.
ASF Parent Questionnaire
We conducted our Parent and Pupil Questionnaires in December. A big thank you to all the parents and pupils who completed them. The staff and Active School committee discussed the findings.As a result, we have tried to incorporate more movement breaks into our school day, more equipment on the yard and continue to focus on the development of Fundamental Movement skills from Junior Infants to sixth class.
Active Schools Parent Survey Results.docx (295602)
Active School Pupils Questionnaire Results.docx (34500)
GAA Coaching
During November and December, all children received six weeks of Gaelic football training by Eamon Hughes development coach from Monaghan GAA.
Monaghan GAA Coaching and Games
During the school closures, pupils and their families took part in the Monaghan GAA Coaching and Games home videos every week. This was truly enjoyed by all!
Walk on Wednesday
In conjunction with our Active School and Green Schools Travel application, the children were encouraged asked to get out for a Walk on Wednesday (WOW). Walking in the fresh air is medicine for the mind and fantastic way to keep active with family members!
Seachtain na Gaeilge 2021
Bhí Seachtain na Gaeilge iontach againn! Ghlac na páistí páirt i gcomórtas póstaer,tráth na gceist,ceolchoirm,rince seamróige,tóraíocht taisce ar scoil agus sa bhaile. Maith sibh go léir!
National Scoot to School Day
As part of National Scoot to School Week, children brought their scooter to school for lunchtime play on Wednesday 24th March . The children had great fun keeping active!
A Special Active School Flag Prize!
We got a lovely surprise on our first day back to school after our Easter holidays! We won a fantastic outdoor speaker for Feel Good Friday Walkway Day - 26th March. We are really looking forward to trying it out really soon!
Bike Green
Over a four week period, each classroom participated in cycling training by Bike Green. Junior and Senior Infants completed the Balance Bike programme, First to Third class completed the Sprocket Rocket training. Fourth to sixth class enjoyed the Cycle Right Programme. The children had an opportunity to learn about the rules of the road, how to start and stop safety, road positioning, shoulder checks, overtaking and safe traffic manoeuvres. The children in the senior room even were given an opportunity to try out the new skills acquired by cycling on the road.
Have a look at our new equipment !
A massive thank you to all the families who purchased our school calendar in December. The proceeds of the calendars helped to purchase new P.E. equipment which has arrived just in time for Active School Week 2021!
A big thank you to our parents for helping us to purchase new hurdles and ladders. We are thrilled!
Active School Week 2021
We celebrated Active School Week 2021 in partnership with a number of local organisations and sports people. A big thank you for helping us out!
Have a look on our social media pages for more photographs and videos of our Partnerships throughout the year!