PHYSICAL ACTIVITY
Guidelines from the World Health Organisation say that children over the age of six need at least an hour of physical activity every day. In St. Michaels we promote inclusive physical activity throughout the school day.
Our School Day
We have two daily playground breaks each day. When we have bad weather, all the children stay indoors and complete short physical activities with teachers. Go Noodle and Just dance are the most popular!
Have a look at our Wet Day activities!
Our Movement Breaks
Movement break Sir Elton .mp4 (2836763)
Active Homework
Every Thursday, the children get Active homework.
Below is a sample of the type of Active Homework we do!
Our Active Yard
At St. Michaels, we all really enjoy Active Yard. All the children are divided into five groups. Each group has an Active Yard leader. Children from fourth, fifth and sixth class all get a chance to become an Active Yard Leader for two months.We try to come up with lots of different games that everyone enjoys!
This year, each classroom gets a turn every three weeks on Active Yard. The Active Agents set up the equipment. All equipment is sanitised by a teacher.
Active Yard in ACTION!
Our Halloween Walk 2019
We began our Active school journey this year with a fancy dress Halloween walk in Rossmore Park.
Afterwards,we got to play in the play park!
Active Classroom Challenge
As a whole school, we carried out the Active Break Challenge from 11th November to 6th December! Activities such as Go Noodle, Just Dance and 10 @ 10 kept the children super active in their classrooms! Well done to the active committee and leaders who made sure we were working hard!
Our Santa Dash 2019
As part of our Active Christmas event, the whole school participated in "The Santa Dash" on Friday the 20th of December. The children all looked very festive dressed up in their Christmas jumpers and hats!
Fred The Party Professor
Keeping active with Fred the Party Professor. Some great hopping from everyone!
Seachtain na Gaeilge 2020
Bhí céilí ar siúl ar 10ú lá de mhí Márta. Chuaigh na páistí ar fad chuig halla na scoile. Thosaigh gach rang ag damsha "An Droichead Átha Luain". Bhí tuirse ar gach duine nuair a bhí an ceíli thart.
See our Senior room in action!
10 @ 10 as Gaeilge
2020/2021
Movement Breaks
The use of movement breaks are an important part of our school day. The children enjoy Go Noodle, 10@ 10 and Just Dance. This year we are using a variety of resources which includes Movement in the Classroom from the PDST and Bizzy Breaks from The Irish Heart Foundation.
Check out some of our Movement break videos on our social media pages!
Halloween Active Day
We started our active day with a Green-school walk to highlight alternative and sustainable forms of travel.Later, we had whole school socially distanced dance to the Addams family theme tune.The children enjoyed an outdoor disco and many more active themed activities.Everyone had a great day to end our first term. We even made front page of the Northern Standard newspaper! A video of our Halloween Active Day can be viewed on our social media pages.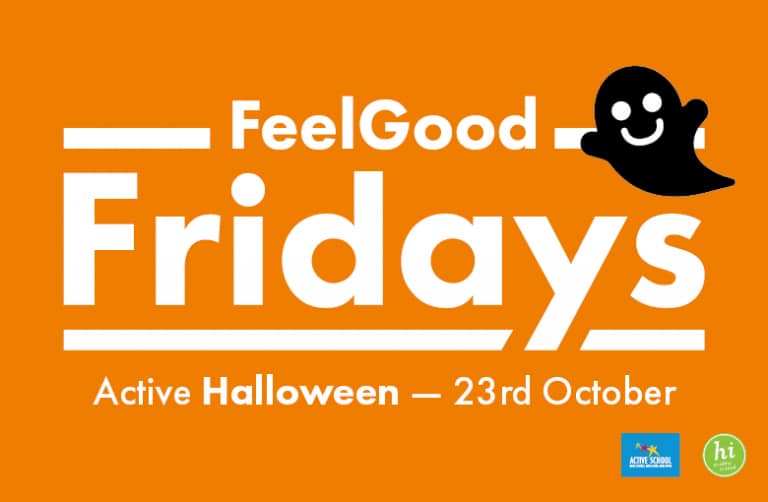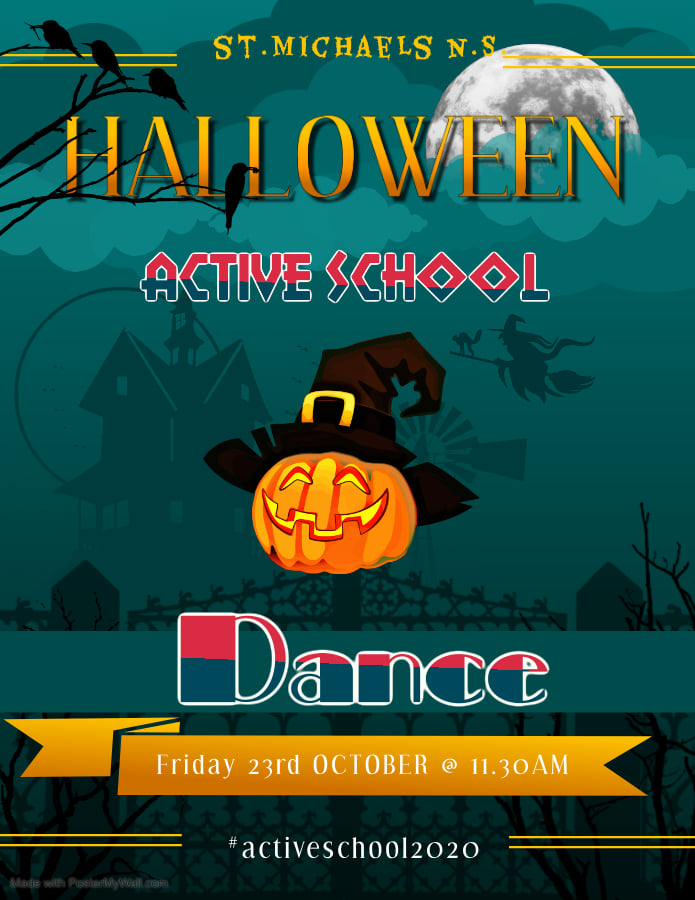 Mindfulness
We enjoy practicing Mindfulness during our busy school day.
Active Break Challenge 2020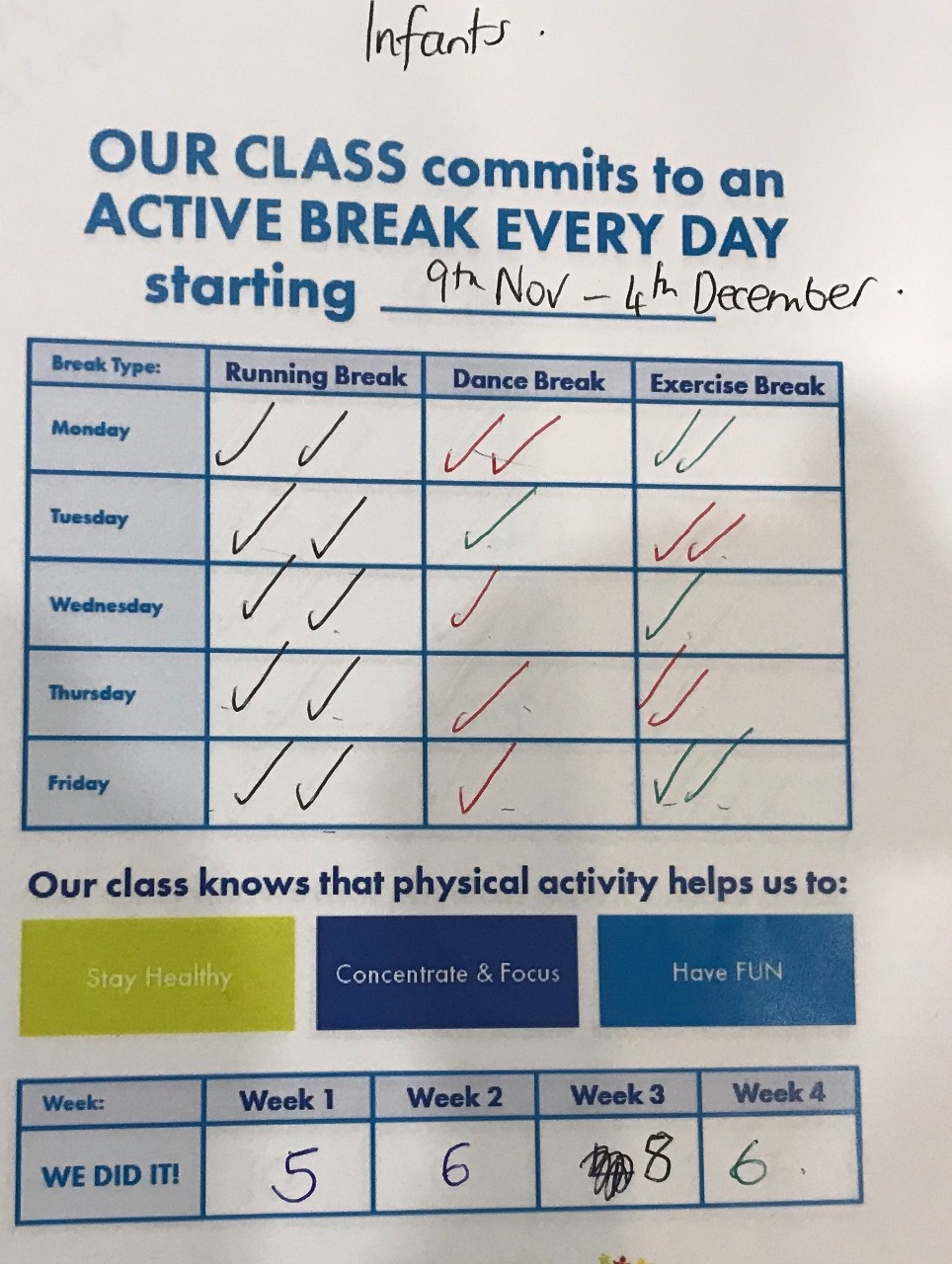 Our Active Break Challenge began 9th November and finished on 4th December. We tried to use different ways to keep active everyday. Mrs. Doherty's room loved practicing their running. Ms. Mc Phillips class enjoyed trying Go Noodle activities. Mrs. Mc Guigan's class became experts at Bizzy Breaks activities.
Active Yard
FEEL GOOD FRIDAYS
For November's Feel Good Friday we did our movement breaks and pod games outdoors. Each activity was led by our fantastic Active School Commitee.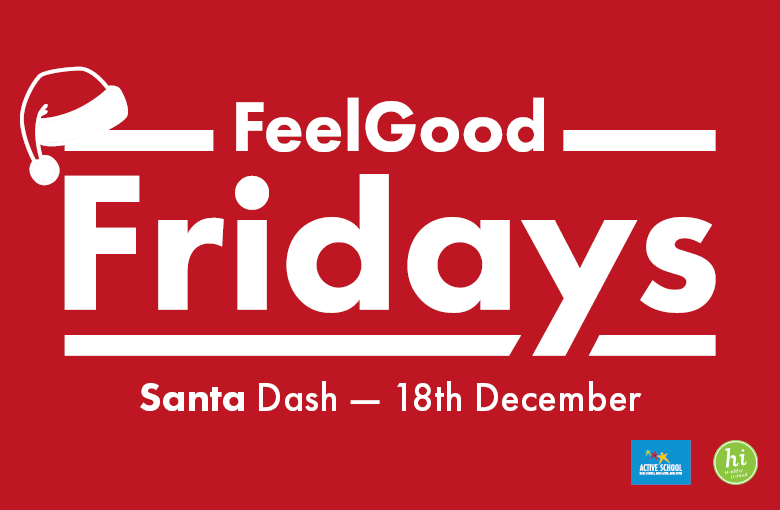 On Monday 21st December, we had a Christmas theme active day. The morning started with all three bubbles completing a Santa Dash. Next, our active commitee lead their class in a special 'Elf workout' . Later in the day, we performed our Jingle Bell active dance in a socailly distanced way.
We enjoyed dancing to our favourite Christmas tunes at playtime.
It was a great way to have fun and keep active before our Christmas holidays. Have a look at our social media pages to see the action.
Keeping Active at Home
Getting Active with our family
b0a01218-0792-4076-81f0-7846e4643a04.MP4 (709978)
Climb the Height Skipping Challenge
Even though we were apart, we undertook the 'Climb the Heights Skipping Challenge' from our homes during January and February! This challenge was a fantastic way to practice one of our four fundamental movement skills, work together to climb the hightest peaks in Europe and keep active all at the same time!
During the month of February, we took part in Feel Good Friday to promote 'Learning on the Move'. We had great fun learning and keeping active at the same time!

Have a look at how some of our senior pupils are learning on the move while at home!
The Active School Committee worked together to plan our walkway route. We used our mathematical skills and a trundle wheel to measure the walkway. One lap of the walkway is 200m, which means that 5 laps equals on kilometre. We discussed the best places to put the control points. The senior pupils researched and designed some motivational quotes for the route also!
We have started to use our walkway for our whole school running challenge Run Around Ireland and can't wait to use it to help us with our learning, for our Movement breaks, PE lessons, Active School Week and at breaktime!
Get Moving!
Every classroom have decided upon three ways that they can get more active everyday at school!
RUN AROUND IRELAND CHALLENGE
We started our whole school Run Around Ireland Challenge on Monday 22nd March. The Active Agents helped to calculate the distance from our school to each landmark on the map. They are also responsible for counting the number of laps at the end of each day and calculating the final total at the end of the week. At the end of the four challenge, we ran a GRAND TOTAL of 6,011 laps of the yard and reached fifteen destinations. Well done boys and girls!
Have a look on our social media pages for more photographs and videos of our Physical Activities throughout the year!