PHYSICAL EDUCATION
The curriculum focuses on:
Athletics,
Dance,
Games,
Outdoor and Adventure
,
It can be accessed using:
Our Whole School P.E. Plan
St.Michaels PE Plan final draft 2020.doc (1209856)
A standardised Physical Education timetable is compiled each year where all classes are taught the same strand of the curriculum in the month.
Yearly PE Plan 2020 2021.doc (30208)
Fundamental Movement Skills
We have been focusing on the
Fundamental Movement Skills of:
Side stepping
Jumping from a distance
Skipping
Catching
Our FMS Posters
Junior & Senior Infants practicing the fundamental skill of Skipping!
Catching
Have a LOOK at us practicing our FMS!
Athletics
As a school, we have decided to make 'Athletics' our priority strand. See pictures below!
Take a look at what we have been doing in PE since September 2019!
Games
We kick started our new school year, with Games. We had great fun playing lots of different types of games with our classmates!
Outdoor and Adventure
During the month of October, we used our own school environment for our outdoor and adventure lessons. At the end of the month we visited Rossmore Forest Park.
Dance
We have been Busy BEES!
During the months of November and December, we have been doing Dance! We had great fun learning some new dance moves and dancing to our favourite tunes.
Aquatics
As part of the Physical Education curriculum, all children from Junior Infants to sixth class completed a block of swimming lessons in Coral Leisure Centre in Monaghan. They have been learning how to swim using a float, the front crawl and back stroke. All the children really enjoyed this great experience. A big thanks to the swimming instructors and to the parents who helped out.
Athletics
During the month of March, we focused on the strand of Athletics. Due to school closures we didn't get to finish our Athletics lessons planned.
2020/2021
All our P.E. Lessons will take place outdoors following Covid 19 Guidelines.
CPD
Staff members attended a number of Continuous Professional Development courses linked to Physical Education throughout the school year. These included; IPPEA Guidance on PE during Covid 19, PDST - Pop in PE, IPPEA Teaching Athletics outdoors with multi-grade classes, PDST Webinar 2- Focus on PE and An Introduction to Physical Literacy. Powerpoint presentations and lesson ideas was shared with staff members.
We continue to practice our chosen Fundamental Movement Skills throughout the year.
Side stepping

Skipping




Jumping from a distance

Catching
September
We began our new school year with the Physical Education strand of Games
October
Land Paws Programme
The children in fourth,fifth and sixth class enjoyed learning about water safety,farm safety the four types of rescue and what to do if you are scared of the water.An invaluable resource which can be used with all children.
Outdoor and Adventure
During the month of October, we had great fun discovering our school environment. We had a trail for Maths week. A big thank you to Mr. Greenan for organising it!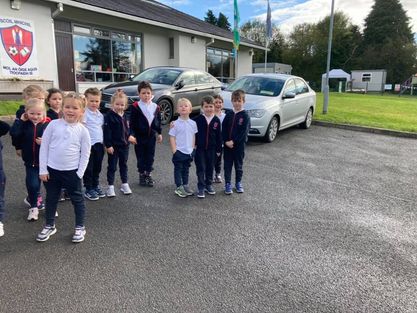 November
Gymnastics
During the month of November, we explored how to make sequences of movements and symmetrical movements with our bodies.
December
Dance
This month we focused on incorporating two fundamental movement skills of Side stepping and Skipping through fun games!
January & February
During the school closures, children and teachers continued to complete PE sessions from home. Teachers used the PDST resources Beyond the Classroom and PE at home resources.
March
This month we focused on our priority strand of 'Athletics' at home and at school. We focused on Sprinting, Skipping and Jumping!
74DF46B4-A09F-4F6E-8D0D-ED0177D91DB6 (1).MOV (4119300)
Have a look at our social media pages for Athletics at home!
April
During the month of April, we will be using our Active Walkway to complete some of our lessons.
May
This month we are focusing on Athletics. We have been practicing sprinting,jumping and hurdling!
Have a look on our social media pages for more photographs and videos of our Physical Education lessons throughout the year!